K-O/Appearance Request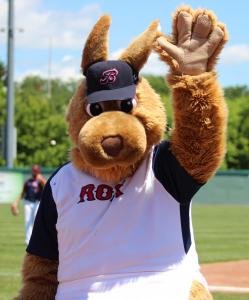 ***NOTICE: K-O will not be available for events in 2021 due to the COVID-19 pandemic***
Name: K-O
Height: 7 Boomerangs
Weight: 2,416 Baseballs
Born: Kangaroo Island, Australia
Resides: Campanelli Stadium
K-O is available to entertain fans outside of Campanelli Stadium and at Rox games!
Some Events K-O likes to attend:
School Fundraisers
Community Events
Birthday Parties
Company Picnics
K-O is available to make appearances year-round and will work to fulfill as many requests as possible!
Based on the nature of the event, K-O is usually available at a small cost.
Preference will be given to community affiliates and organization who partner with the Brockton Rox.
Call 508-559-7000 to see if K-O is available on the day you would like!