Group Experiences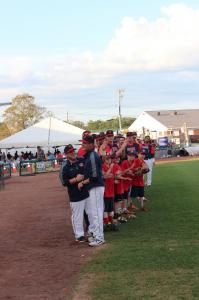 Don't just watch a game when you can be part of it!!!
The Brockton Rox are excited to introduce a number of new and
interactive group experiences tailor made specifically for local little
league teams and groups.
FIELD OF DREAMS $15/Ticket, Have your team announced alongside the Rox
Players at the start of the game and during the National Anthem (Min. 15,Max.25)
HIGH FIVE KIDS $15/Ticket, Tunnel up around the Rox as they run out on to the
field and high five them to victory! (Min. 15, Max. 30)
DUGOUT BUDDIES $15/Ticket, Hang out in the dugout with the Rox Team during
warm-ups, meet the players, get autographs, and take pictures!(Min. 15, Max. 20)
FLY BALLS $15/Ticket, Help the Rox take Batting Practice by fielding fly balls
before the game! (Min.10, Max. 15)
CLUBHOUSE TOUR $300 Upgrade, You and your group can receive a private tour
of the stadium by the Rox General Manager and learn the ins and outs of running
a minor league baseball team! (Max. 50)
PHOTO ON THE FIELD $300 Upgrade, Take your group onto the field before the game and
get your photo take with the Brockton Rox (Max. 25)
PRO BATTER EXPERIENCE $500 Upgrade, Take Batting Practice using our state of
the art pitching machine and simulator! (Max. 20)
For more information or to book your group experiences contact the Brockton
Rox Front office at (508)559-7000!